EkoTek profile
EkoTek Ltd. was established in 2005 to supply and install geomembrane containment systems for a wide range of industry applications.

Since that time, EkoTek Ltd. has established itself as a major supplier and installer to the growing geosynthetic market across Russian Federation and CIS countries.

EkoTek has an experienced team of qualified professionals including technician, project managers and master seamers all experienced in a wide range of geomembrane installations including extrusion fillet welding.
Material
We work with world famous suppliers of geomembrane who have high quality standards and certificates. Their product group is comprised of seamless geomembranes made of HDPE, LLDPE or FPP.

Our goal is to protect purity of nature, people, living environment need to be protected from pollution.
Applications
EkoTek products and services included supply and site specific installation of geomembranes using double wedge seaming technology and extrusion welding.

There is the list of typical geomembrane application:
Beauty ponds (golf courses)
Waste ponds
Landfills
Sewage lagoons
Leach pads
Vapour barriers
Waterproofing
Concrete tanks
Silos
Tank farms
Canal linings
Our projects in Southern Russia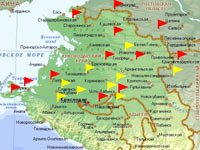 For additional information or a formal quotation for a project, contact

EkoTek Ltd.
Attn.: Baranov Sergey
Tel.: 8(928) 420-40-60
Email:
Russia, Krasnodar, 350051, Montazhnikov, 3.